Finest
Call
Finest Call is our robust line of high-quality cocktail syrups, mixes, and purees designed exclusively for professional bartenders and mixologists.
Visit Site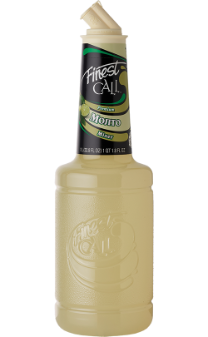 View All Products
Finest Call
Finest Call is the top-selling shelf stable professional cocktail mix brand in the world, currently available in all 50 United States and almost 100 countries. Its introduction in 1995 was chiefly defined by the innovative, user-friendly package that is now synonymous with the brand around the world.
The time-tested bottle shape of the ubiquitous store and pour bottle, a ventilated, directional pour spout, and the continuous thread bottle closure were all combined into one seamless package. It has earned a total of four United States and International patents as well several prestigious package of the year awards in the years since its launch.
The product itself is designed first and foremost to maximize the consumer's overall sensory experience. Finest Call proudly uses only carefully selected varieties of fruit harvested at optimal ripeness. With over 40 flavors in the portfolio, Finest Call is committed to a future of growth and innovation within the professional mixer market.
Finest Call News
Innovation: Patented Finest Call Dispensing Closure
Every aspect of Finest Call's full line of products was developed with the professional bartender